Business Protection Services

For individuals and business

Many businesses are looking at how they can add value to their employees' package and protect shareholders. To give peace of mind and help retain key personnel.
If you're wading through a minefield of options where one product seems similar to another, give me a call on
07958 221939
and get clear, concise information.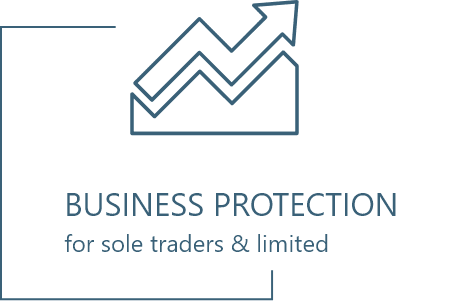 Group Protection
Providing your employees a peace-of-mind of a lump sum payment in the event of death, this form of protection is particularly helpful in retaining key staff members. Depending on your employee needs, this can be provided with critical illness cover, protecting employees' families from the financial devastation that such long-term care and loss of income can bring.

Life cover (death in service)
This enables you to offer your employees cover that will pay out a lump sum based on the amount they earn, if they die whilst in employment. The money is tax-free and can be paid out to whoever you nominate or to a discretionary trust.

Income Protection
This type of protection is taken out by the employer often as part of an employee benefit. It removes the worry over loss of earnings in the event of a long-term absence due to illness or injury.
Critical Illness
This is a significant employee benefit providing a lump sum payment within days to any employee who is diagnosed with a critical illness. For the employer you may be entitled to receive corporation tax relief on any premium you pay.

Business Protection Insurance
Your staff are one of your most important assets and if a key member should fall ill or die it can have a direct impact on your business finances. Insurance can be used to protect you from a fall in sales, lack of confidence from the bank, suppliers or customers, recruitment, cash flow problems and delay in completing work.

Key person cover
Imagine the scenario of losing a key employee or director, someone who has a direct impact on the financial health of your business. It could be time to look at something that will keep things ticking over if the worst should happen. Key person cover protects the net, pre-tax profits of small and medium sized business in the event of a death or long-term illness of a key employee.

Business loan protection
Many businesses borrow funds that are secured against a specific individual in the business, and if that individual should die or suffer a severe illness, it may be difficult to pay these loans back at short notice. Some of these business loans carry personal guarantees which can jeopardises the security of the individual's home or other assets. Business loan protection will pay out a lump sum to the business should the insured or 'tied' individual die or develop a critical illness. The business can then repay any outstanding debt.

Shareholder Protection
How will your business be able to respond to the death of a shareholder/partner in the business? Would the remaining stakeholder be able to purchase their share and ensure the continued smooth running of the business? With this kind of protection, a lump sum would be paid out that allows remaining stakeholders to purchase the stake left in the business without the stress of trying to raise capital.

Partnership protection
Typically, a partnership dissolves on the death of a partner and gives control to the deceased's heirs. In this instance, the protection ensures that the business can continue with the surviving partners buying shares from the heirs if they want to. There are different ways to do but I'm happy to give you some advice. Nick Clarke 07958 221939.

Relevant Life cover
Sometimes known as death in service cover is a way for businesses large or small to provide life insurance and/or significant illness cover for their employees whilst saving the business owner nearly 50% tax compared to an ordinary life policy. Not only that it will help you attract and retain first-rate employees.
Do you do the reward for healthy living as per Vitality Life??? No, but there are certain health benefits such as Smarthealth and Best Doctors
Questions before getting started? Get in Touch